The Art of the Senses and the Making of a Disaporan Aesthetics: Zarina Bhimji's "She Loved to Breathe -- Pure Silence", 1987-2002
References
Bal, Mieke. Quoting Caravaggio: Contemporary Art, Preposterous History. Chicago: U of Chicago P, 1999.
Bhimji, Zarina. Artist's file. London: Victoria and Albert Museum, 1987-88.
Bhimji, Zarina. I Will Always Be Here. [Includes M. Haworth-Booth's "Introduction" and "Interview between Zarina Bhimji and Sonia Boyce."] Birmingham: Ikon Gallery, 1992.
Bradley, J. "An Audience with Herself." Women's Art Magazine 51 (1993): 23-24.
Corby, Vanessa. "Don't Look Back: The Ellipses in the Discourses of Eve Hess(e)." Third Test 57 (Winter 2001-02): 36-42.
Foster, Hal. The Return of the Real: The Avant-garde at the End of the Century. Cambridge: MIT P, 1996.
Marks, Laura. The Skin of the Film. Durham: Duke UP, 2000.
Parmer, P. "Hateful Contraries: Media Images of Asian Women." Ten:8 16 (1984): 70-78.
Ree, J. I See a Voice: A Philosophical History of Language, Deafness and the Senses. London: Flamingo/Harper Collins, 2000.
Reiss, J. H. From Margin to Center: The Spaces of Installation Art. Cambridge: MIT P, 1999.
Spivak, Gayatri C. "Can the Subaltern Speak?" Marxism and the Interpretation of Culture. Ed. Cary Nelson and Larry Grossberg. Urbana: U of Illinois P, 1988. 271-313.
Spivak, Gayatri C. The Post Colonial Critic: Interviews, Strategies, Dialogues. New York: Routledge,1990.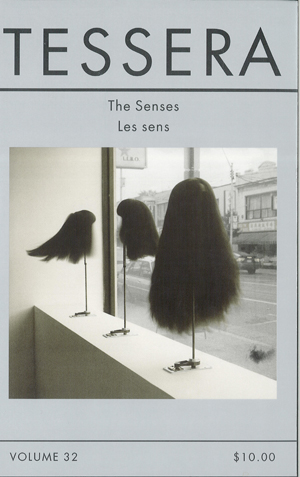 Downloads
How to Cite
Cherry, D. (2002). The Art of the Senses and the Making of a Disaporan Aesthetics: Zarina Bhimji's "She Loved to Breathe -- Pure Silence", 1987-2002. Tessera, 32. https://doi.org/10.25071/1923-9408.25275