Breeches of Conduct: A Piratical Ficto-Criticism
References
Cixous, Helene. Stigmata: Escaping Texts. Trans. Catherine A.F. MacGillivray. London: Routledge, 1998.
Hebdige, Dick. Subculture: The Meaning of Style. New Accents. London: Routledge,1988.
Klausmann, Ulrike, Gabriel Kuhn and Marion Meinzerin. Women Pirates and the Politics of the Jolly Roger. Montreal: Black Rose Books, 1997.
Johnson, Captain Charles. Formerly attributed to Defoe, Daniel. A General History of the Robberies and Murders of the Most Notorious Pyrates. William Graves, ed. New York: Garland Publishing, 1972.
Marlatt, Daphne. Ana Historic. Concord: Coach House Press, 1988.
Marlatt, Daphne. Readings From the Labyrinth. Ed. Smaro Kamboureli. The Writer as Critic: VI. Edmonton: NeWest Press, 1998.
Scheier, Libby, Sarah Sheard and Eleanor Wachtel, eds. Language in Her Eye: Writing and Gender - Views by Canadian Women Writing in English. Toronto: Coach House Press, 1990.
Stanley, Jo, ed. Bold in Her Breeches: Women Pirates Across the Ages. Pandora. London: Harper Collins, 1995.
Van Herk, Aritha. In Visible Ink: Crypto-frictions. Edmonton: NeWest Press, 1991.
West, Richard. The Life and Strange Surprising Adventures of Daniel Defoe. Flamingo. London: Harper Collins, 1997.
Williamson, Duncan. Tales of the Seal People. New York: Interlink Books, 1992.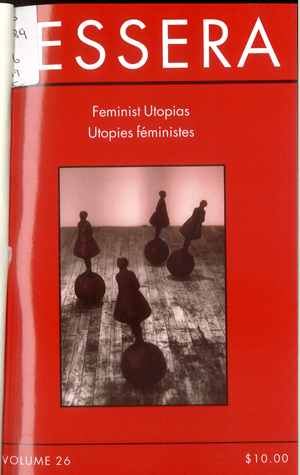 Downloads
How to Cite
Clark, C. A. (1999). Breeches of Conduct: A Piratical Ficto-Criticism. Tessera, 26. https://doi.org/10.25071/1923-9408.25904