In(tro)ducing F/Phantasy
References
Butler, Judith. Bodies That Matter. New York: Routledge, 1993. de Lauretis, Teresa. The Practice of Love. Bloomington: Indiana UP, 1994.
Dolan, Jill. "The Dynamics of Desire: Sexuality and Gender in
Pornography and Performance." Theatre Journal (May 1987): 156-74.
Kiss & Tell. (Persimmon Blackbridge, Lizard Jones and Susan Stewart.) Her Tongue on My Theory. Vancouver: Press Gang, 1994.
Kristeva, Julia. "Word, Dialogue and Novel." The Kristeva Reader. Ed. Torii Moi. Oxford: Basil Blackwell, 1986.34-61.
Laplanche, Jean and Jean-Bertrand Pontalis. "Fantasy and the Origins of Sexuality." Formations ofFantasy. Eds. Victor Burgin, James
Donald and Cora Kaplan. London: Methuen, 1986.
Scott, Gail. Main Brides. Toronto: Coach House, 1993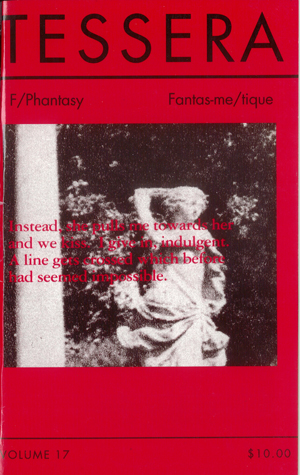 Downloads
How to Cite
Henderson, J. (1994). In(tro)ducing F/Phantasy. Tessera, 17. Retrieved from https://tessera.journals.yorku.ca/index.php/tessera/article/view/25832