Fat Shoes
References
De Lauretis, Teresa. The Practice of Love: Lesbian Sexuality and Perverse Desire. Bloomington: Indiana UP 1994.
Doane, Mary Ann. The Desire to Desire: The Woman's Film of the 1940s. Bloomington: Indiana UP, 1987.
Doane, Mary Ann. Femmes Fatales: Feminism, Film Theory, and Psychoanalysis. New York: Routledge, 1991.
Emberley, Julia V. The Cultural Politics of Fur. Ithaca: Cornell UP, 1997.
Hitchcock, Peter. Oscillate Wildly: Space, Body, and Spirit of Millennial Materialism. Minneapolis: U of Minnesota P, 1999.
Irigaray, Luce. This Sex Which Is Not One. Trans. Catherine Porter. Ithaca: Cornell UP, 1985.
Marx, Karl. Capital: A Critique of Political Economy. Trans. Ben Fowkes. New York: Vintage, 1977.
Thornham, Sue. Feminist Theory and Cultural Studies: Stories of Unsettled Relations. London: Arnold/New York: Oxford U~ 2000.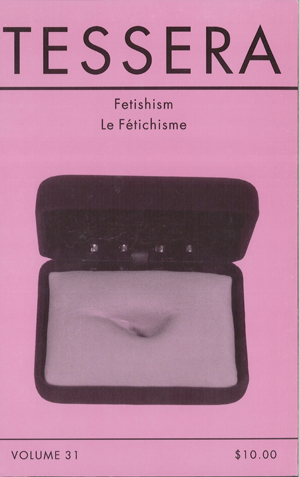 Downloads
How to Cite
Henderson, J. (2002). Fat Shoes. Tessera, 31. https://doi.org/10.25071/1923-9408.25251