The Politics of Textualising Recall: Women in Canadian Feminist Histor(iograph)y
References
Bourgeault, Ron. "Race, Class and Gender: Colonial Domination of Indian Women." Race, Class, Gender: Bonds and Barriers. Eds. Jesse Vorst et al. Reved. Toronto: Garamond, 1991. 88-117.
Mitchinson, Wendy. The Nature of Their Bodies: Women and Their Doctors in Victorian Canada. Toronto: U of Toronto P, 1991. DOI: https://doi.org/10.3138/9781442681811
Prentice, Alison et al. Canadian Women: A History. Toronto: Harcourt Brace Jovanovich, 1988.
Prevost, Robert. Montreal ... La folle entreprise. Montreal: Les éditions internationales Alain Stanke, 1991.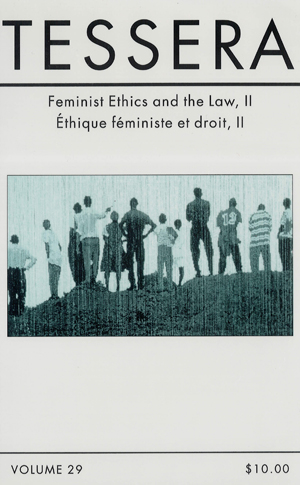 Downloads
How to Cite
Provost, T. (2000). The Politics of Textualising Recall: Women in Canadian Feminist Histor(iograph)y. Tessera, 29. https://doi.org/10.25071/1923-9408.25221