Conversion, Aversion or Perversion?Tropes of Recovery in 'Female Perversions'
References
Butler, Judith. Gender Trouble. New York: Routledge, 1990.
de Lauretis, Teresa. The Practice of Love. Bloomington: Indiana U P 1994.
Female Perversions. Dir. Susan Streitfeld. Perf. Tilda Swinton. October Films. Astral, 1996.
Freud, Sigmund. On Sexuality. Ed. and trans. James Strachey. Vol. 7. London: Penguin, 1991.
Kaplan, Louise. J. Female Perversions. New York: Anchor/Doubleday, 1991.
Riviere, Joan. "Womanliness as a Masquerade." In Formations of Fantasy. Eds. Victor Burgin, James Donald, and Cora Kaplan. London: Methuen, 1986.
ZiZek, Slavoj. The Sublime Object of Ideology. London: Verso, 1989.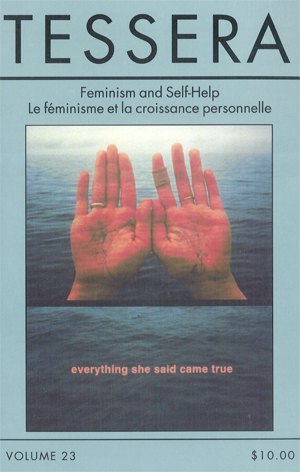 Downloads
How to Cite
Murray, J. (1997). Conversion, Aversion or Perversion?Tropes of Recovery in 'Female Perversions'. Tessera, 23. https://doi.org/10.25071/1923-9408.25113