'Anorexia': Flesh Speaking Word
References
Bruch, Hilde. Conversations with Anorexics. Eds. Danita Czyzewski and Melanie A. Suhr. New York: Basic, 1988.
Butler, Judith. Bodies That Matter: On the Discursive Limits of 'Sex.' New York: Routledge, 1993.
Hunter, Kathryn Montgomery. Doctor's Stories: The Narrative Structure of Medical Knowledge. Princeton: Princeton UP, 1991.
Illich, Ivan. Limits to Medicine: Medical Nemesis: The Expropriation of Health. London: Boyars, 1976.
Levenkron, Steven. The Best Little Girl in the World. New York: Warner, 1978.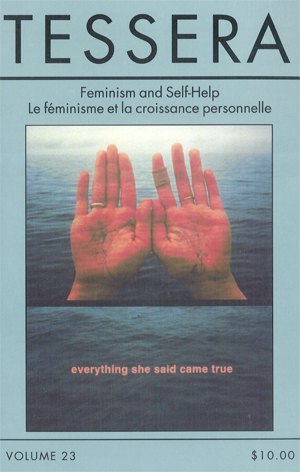 Downloads
How to Cite
Soros, E. (1997). 'Anorexia': Flesh Speaking Word. Tessera, 23. https://doi.org/10.25071/1923-9408.25104