Introduction
References
Godard, Barbara. "Becoming My Hero, Becoming Myself. Notes
Towards a Feminist Theory of Reading. " Language in Her Eye. Eds. Libby Scheier, Sarah Sheard and Eleanor Wachtel. Toronto: Coach House, 1990. 112-122.
Irigaray, Luce. An Ethics of Sexual Difference. Translated by Carolyn Burke and Gillian Gill. Ithaca and New York: Cornell University Press, 1993.
Sartre, Jean-Paul. Being and Nothingness. Translated by Hazel Barnes. New York: Philosophical Library Inc., 1956.
Spivak, Gayatri Chakravorty. Translator's Preface. Of Grammatoloyg. By Jacques Derrida. Baltimore and London: Johns Hopkins UP, 1974. ix-lxxxvii.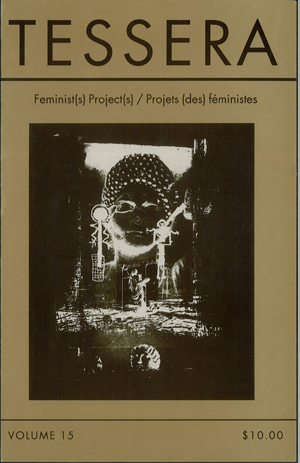 Downloads
How to Cite
Binhammer, K., Henderson, J., & Moyes, L. (1993). Introduction. Tessera, 15. https://doi.org/10.25071/1923-9408.24992