Remembering to Write: Five Letters to Real Imaginaries...
References
Conlogue, Ray. The Globe and Mail 5 Nov. 1992: Cl.
Sandra. "Suggestions from Irigaray. " Italian Feminist Thought. A Reader. Ed. P. Bono and S. Kemp. London: Basil Blackwell, 1991.
Marcus, Jane. "Laughing at Leviticus: Nightwood as Woman's Circus Epic." Silence and Power. Ed. Mary Lynn Broe. Carbondale, IL: Southern Illinois UP, 1991.
Meese, Elizabeth A. (Sem)erotics. Theorizing Lesbian Writing. New York: New York UP, 1992.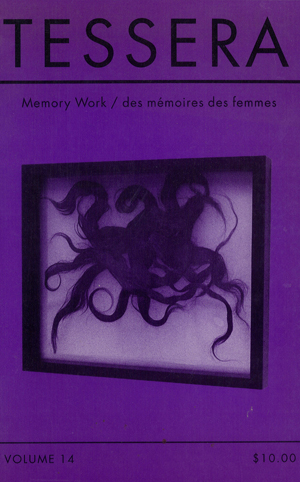 Downloads
How to Cite
Laing, C. (1993). Remembering to Write: Five Letters to Real Imaginaries. Tessera, 14. https://doi.org/10.25071/1923-9408.24989