Shifting Realities: An Interview
References
Bazin, André. What is Cinema. Berkley: U of California, 1971.
Davis, Rae. Being and Doing, Rae Davis: Work (1959 - 86). London: London Regional Art Gallery. 1986.
Dulac, Germaine. "Du sentiment à la ligne" in Films as Form: Experiment in Film 1910 - 1975. London: Hayward Gallery, 1979.
Stein, Gertrude. "Portraits and Repetition" in Gertrude Stein: Look at Me Now and Here I Am, Ed. Patricia Meyerowitz. Harmondsworth: Penguin, 1967.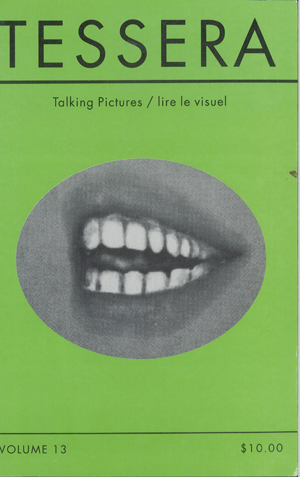 Downloads
How to Cite
Sternberg, B., & Godard, B. (1992). Shifting Realities: An Interview. Tessera, 13. https://doi.org/10.25071/1923-9408.24965