Colouring Rhetoric / Colorier la rhétorique
References
Barthes, Roland. "The Photographic Message." Image, Music, Text. Trans. Stephen Heath. London: Fontana, 1977.
Deleuze, Gilles. Différence et répétition. Paris: PUF, 1968.
Deleuze, Gilles. Cinéma 2: l'image-temps. Paris: Minuit, 1985.
Gandelman, Claude. Reading Pictures, Viewing Texts. Bloomington: Indiana UP, 1991.
Kristeva, Julia. Histoires d'amour. Paris: Denoël, 1983.
Kristeva, Julia. Au commencement était l'amour: Psychanalyse etfoi. Paris: Hachette, 1985.
Parker, Alice. "Le mal de mere/The (M)Other's Text." Tessera 14, 1993. https://doi.org/10.25071/1923-9408.24979
Steiner, Wendy. The Colours of Rhetoric. Chicago: U Chicago P, 1982. Tostevin, Lola Lemire. Colour ofHer Speech. Toronto: Coach House, 1982.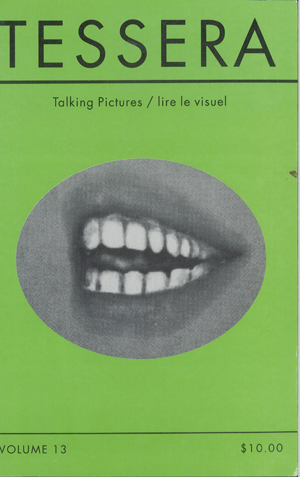 Downloads
How to Cite
Godard, B. (1992). Colouring Rhetoric / Colorier la rhétorique. Tessera, 13. https://doi.org/10.25071/1923-9408.24960