Banuta Rubess: New Languages for Performance
References
Kristeva, Julia. 1991. Strangers to Ourselves. trans. Leon S. Roudiez. New York.
Rubess, Banuta. 1989. Boom, Baby, Boom!. In Canadian Theatre Review no. 58, (spring 1989).
Rubess, Banuta. 1991. "Gender Issues in the Theatre: A Panel of Theatre Professionals." May 27, Meetings of the Association for Theatre Research in Canada. Kingston, Ontario (not published).
Rubess, Banuta. 1990. "Interview" by Rita Much in Fair Play: twelve women speak". Toronto: Simon & Pierre.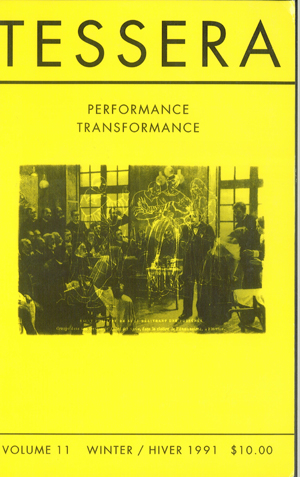 Downloads
How to Cite
Rewa, N. (1991). Banuta Rubess: New Languages for Performance. Tessera, 11. https://doi.org/10.25071/1923-9408.24937