Supplementing the Dangerous Supplement: Auto-(bio)graphical Fragments from the Diary of a Female Cigarette Addict
References
Jacques Derrida, Of Grammatology, trans. Gayatri Chakravorty Spivak (Baltimore: John Hopkins UP, 1976), 141-158.
Jacques Derrida, Dissemination, trans. Barbara Johnson (Chicago: U of Chicago P, 1981), 101 ff.
Plato: The Collected Dialogues, ed. Edith Hamilton and Huntington Cairns (Princeton: Princeton UP), 520:275.
Freud, 'A Note Upon the Mystic Writing-Pad (1925), in Sigmund Freud: On Metapsychology (Harmondsworth: Pelican Freud Library, 1984), 429433.
Hélène Cixous and Catherine Clément, The Newly Born Woman, trans. Betsy Wing (Minneapolis: U of Minnesota P, 1986).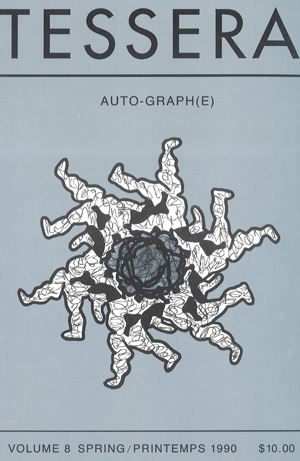 Downloads
How to Cite
Antonopoulos, A. (1990). Supplementing the Dangerous Supplement: Auto-(bio)graphical Fragments from the Diary of a Female Cigarette Addict. Tessera, 8. https://doi.org/10.25071/1923-9408.23624