Birthdance
References
Hélène Cixous, 'The Laugh of the Medusa,' in New French Feminisms, ed. by Elaine Marks and Isabelle de Courtivron, (New York: Schocken Books, 1980), p. 245.
Hélène Cixous and Catherine Clement, The Newly Born Woman, trans. by Betsy Wing, (Minneapolis: University of Minnesota Press). Luce Irigaray, Speculum of the Other Woman, trans. Gillian G. Gill, (New York: Cornell University Press, 1985). Julia Kristeva, Revolution in Poetic Language, trans.
Margaret Waller, (New York: Columbia University Press, 1984), and, Powers of Horror, trans. Leon Roudiez, (New York: Columbia University Press, 1982).
Jane Silverman Van Buren, 'The Maternal Metaphor,' in her book, The Modernist Madonna, Semiotics of the Maternal Metaphor, (Bloomington: Indiana University Press, 1989), p. 14.
The Great Cosmic Mother, Rediscovering the Religion of the Self, by Monica Sjoo and Barbara Mor, (San Fransisco: Harper & Row, 1987)
Birth, An Anthology of Ancient Texts, Songs, Prayers, and Stories, ed. by David Meltzer, (San Fransisco: North Point Press, 1981)
Gaia, A Way of Knowing, ed. by William Irwin Thompson (San Francisco: Lindisfarne Press, 1987)
Adrienne Rich, Of Woman Born (New York: Norton, 1986)
Mary Daly, Gyn / Ecology, The Metaethics of Radical Feminism, (Boston: Beacon Press, 1978)
Emily Martin, The Woman in the Body, A Cultural Analysis of Reproduction, (Boston: Beacon Press, 1987)
Ann Oakley, The Captured Womb, A History of the Medical Care of Pregnant Women, (New York: Basil Blackwell, 1984)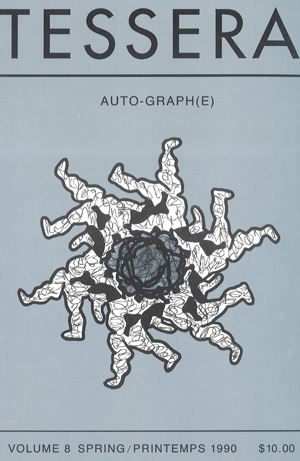 Downloads
How to Cite
Clews, B. (1990). Birthdance. Tessera, 8. https://doi.org/10.25071/1923-9408.23620