Meetings of Narrative and the Female Icon: Intervention in the Paintings of Joanne Tod
References
Robert Morris, 'Words and Images in Modernism and Postmodernism,' Critical Inquiry 15, 2 (Winter 1989):340. https://doi.org/10.1086/448487
Bruce Grenville, 'Joanne Tod,' Catalogue (Southern Alberta Art Gallery, 1986).
Mikhail Bakhtin, 'Discourse Typology in Prose,' ed. Ladislav Mavejka and Kryshjna Pomorska, Readings in Russian Poetics (London, 1971), p. 187.
Janice Andraea, 'Joanne Tod,' Parachute, Sept / Oct / Nov 1988, p. 62.
Kaja Silverman, The Subject ofSemiotics (Oxford U. Press: Oxford, 1983).
Teresa Lauretis, Technologies of Gender (Bloomington: Indiana U. Press, 1987), p. 10. https://doi.org/10.1007/978-1-349-19737-8
Roland Barthes, Système de la Mode (Paris: Seuil, 1967).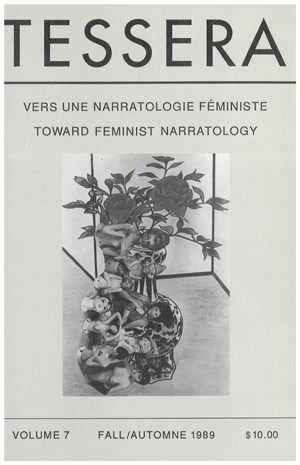 Downloads
How to Cite
Bernard, K. (1989). Meetings of Narrative and the Female Icon: Intervention in the Paintings of Joanne Tod. Tessera, 7. https://doi.org/10.25071/1923-9408.23600