Theory of the Subject as Pronoun
References
Emile Benveniste, Problèmes de linguistique générale (Paris: Gallinard, 1966), p. 81.
Catharine Belsey's Critical Practice (London: Methuen, 1980), pp. 64-7 https://doi.org/10.4324/9780203328439
Julia Kristeva, Desire in Language (Oxford: Basil Blackwell, 1980).
Karl Bühler, Speech, Place, and Action, R.J. Jarvella and W. Klein, eds.(Chichester: John Wiley and Sons, 1982), p. 12.
Lyons, John. Introduction to Theoretical Linguistics. London: Cambridge Univ. Press, 1977
Charles Fillmore, Santa Cruz Lectures on Deixis (Indiana Linguistic Club, 1975), p. 39
The Structuralist Controversy, R. Macksey and E. Donato, eds. (Baltimore: Johns Hopkins, 1970), p. 144
Julia Kristeva, 'Instances du discours et altération du sujet,' Romanic Review 70, 9 (1974), p. 77.
Roman Jakobson, Selected Writings, Vol. 2 (The Hague: Mouton), p. 132.
Jakobson, Selected Writings, Vol. 7 (Berlin: Mouton, 1985), p. 116
Hélène Cixous, 'Le sexe ou la tête?' in Les Cahiers du GRIF, 13 (1976), pp. 5-15 https://doi.org/10.3406/grif.1976.1089
Luce Irigaray, Ce sexe qui n'en est pas un (Paris: Editions de Minuit, 1977).
Laura Kreyder, 'Una donna banale,' Nuovo Corrente 28, 86 (1981), p. 511.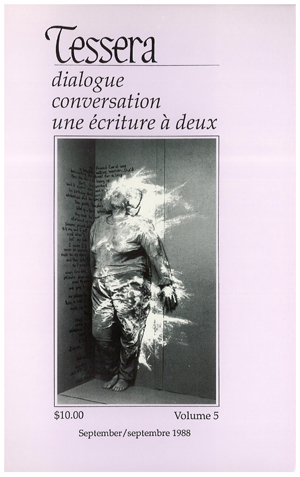 Downloads
How to Cite
Hanafi, R. (1988). Theory of the Subject as Pronoun. Tessera, 5. https://doi.org/10.25071/1923-9408.23568