'Tessera' Editorial: Feminist Critical Theory in English Canada and Quebec: Present State and Future Directions
References
Peter Fitting, "The Decline of the Feminist Utopian Novel", Borderlines, 7/8 (Spring/Summer 1987), p. 19.
Bronwyn Drainie, "Meet the Postfeminist Woman", Chatelaine, September 1986, pp. 59 and 95.
Susan Crean, "Post-modernism and Power Dressing: Who Says the Women's Movement Has Run Out of Steam?" This Magazine, 20 No.4 (October/November 1986), p. 38.
Elaine Showalter, "Feminist Criticism in the Wilderness", Critical Inquiry, 8, No. 2 (Winter 1981), p. 200. https://doi.org/10.1086/448150
Marlene Nourbese Philip, "Social Barbarism and the Spoils of Modernism: Notes from the Margin", Fuse, Spring 1987, p. 32.
Teresa de Laurentis, "The Technology of Gender", Seminars at ISIsss, Toronto, June 1987.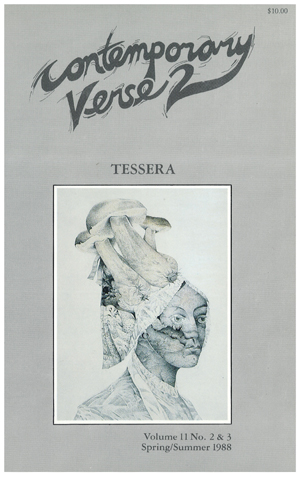 Downloads
How to Cite
Godard, B. (1989). 'Tessera' Editorial: Feminist Critical Theory in English Canada and Quebec: Present State and Future Directions. Tessera, 4. https://doi.org/10.25071/1923-9408.23540