Present? or Re-Present?
References
"L'écrivain," in La nef des sorcières (Ottawa: Quinze, 1976), p. 74.
Alice A. Jardine, Gynesis: Configurations of Woman and Modernity (Ithaca: Cornell University Press, 1985), p. 118.
France Théoret. Une voix pour Odile (Montreal: Les Herbes Rouges, 1978).
Nicole Brossard, "Je vais tourner mon corps et faire semblant de la comparer," La nouvelle barre du jour 136-137 (mars 1984, numéro spécial sur femmes et photos): 149-60.
Burke, Carolyn Greenstein. "Report from Paris: Women's Writing and the Women's Movement. " Signs: A Journal of Women in Culture and Society 3, no. 4 (1978): 843-55. https://doi.org/10.1086/493542
Eagleton, Terry. Literary Theory: An Introduction. Oxford: Basil Blackwell, 1983.
Gagnon, Madeleine, "My Body in Writing." In Feminism in Canada: From Pressure to Politics. Ed. Geraldine Finn and Angela Miles. Montreal: Black Rose Books, 1982.
Gallop, Jane. Feminism and Psychoanalysis: The Daughter's Seduction. London: The Macmillan Press Ltd., 1982. https://doi.org/10.1007/978-1-349-16779-1
Godard, Barbara. "Writing and Difference: Women Writers of Québec and English-Canada." In In the Feminine: Women and Words: Conference Proceedings 1983. Ed. Ann Dybikowski et al. Edmonton: Longspoon Press, 1985.
Irigaray, Luce. This Sex Which is Not One. Trans. Catherine Porter, with Carolyn Burke. Ithaca: Cornell University Press, 1985.
Showalter, Elaine. "Feminist Criticism in the Wilderness." In Writing and Sexual Difference. Ed. Elizabeth Abel. Chicagot University of Chicago Press, 1982.
Smart, Patricia. "Quand la fille du bar se met à parler: la poésie de France Théoret." Dalhousie French Studies, Special Issue (Summer 1985): 153-62.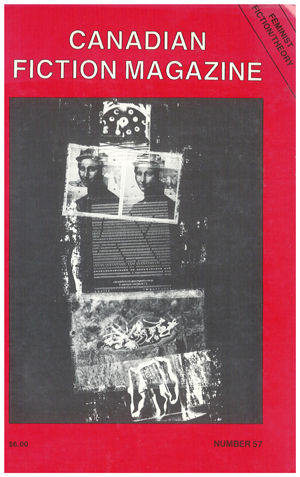 Downloads
How to Cite
Nemeth, T. (1986). Present? or Re-Present?. Tessera, 3. https://doi.org/10.25071/1923-9408.23527