Is Feminist Literary Criticism Becoming Anti-Feminist?
References
Elizabeth Abel, "Writing and the Sexual Difference," Critical Inquiry, Vol. 8, No. 2 (Winter 1981).
Jean Bethke Elshtain, "Feminist Discourse and Its Discontents: Language, Power, and Meaning," Signs, Vol. 7, No. 3 (Spring 1982), p. 605. DOI: https://doi.org/10.1086/493902
Gayle Greene, "Feminist and Marxist Criticism: an argument for alliances," Women's Studies, Vol. 9 (1981).
Annette Kolodny, "Dancing through the Minefield: Some Observations on the Theory, Practice, and Politics of a Feminist Literary Criticism," Feminist Studies, Vol. 6, No. 3, (Spring 1980), pp. 18-19. DOI: https://doi.org/10.2307/3177648
Jane Marcuse, "Storming the Toolshed," Signs, Vol. 7, No. 3, (Spring 1982) p. 624. DOI: https://doi.org/10.1086/493903
Elaine Showalter, "Feminist Criticism in the Wilderness," Critical Inquiry, Vol. 8, No. 2 (Winter 1981), p. 183. DOI: https://doi.org/10.1086/448150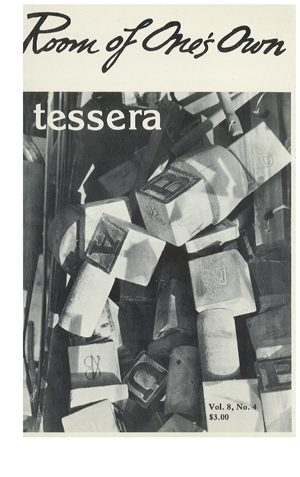 Downloads
How to Cite
Lebowitz, A. (1984). Is Feminist Literary Criticism Becoming Anti-Feminist?. Tessera, 1. https://doi.org/10.25071/1923-9408.23495