Canadian Women Poets and the Syndrome of the Female Man
References
Audrey Alexandra Brown, Poetry and Life, Privately printed by the Macmillans in Canada, p. 9.
Euripedes, "Medea," Il. 410-30, trans. Rex Warner, in The Complete Greek Tragedies: Euripides I, ed. David Greene and Richard Lattimore (New York, 1967), p. 78.
Suzanne Juhasz, Naked and Fiery Forms. Modem American Poetry by Women: A New Tradition (New York, 1976), p. 202.
Abraham Klein, The Rocking Chair and Other Poems (Toronto, 1948), pp. 50-56.
Dorothy Livesay, Foreword, Air, special issue "Woman's Eye," Nos. 19-21 (1974), p.v.
Barbara Segnitz and Carol Rainey, Psyche (New York, 1973), p. 15.
William Walsh, Commonwealth Literature (London, 1973), p. 88.
Anne Wilkinson, The Collected Poems of Anne Wilkinson, ed. A.J.M. Smith (Toronto, 1968), pp. 48-50.
Virginia Woolf, A Room of One's Own (1928; reprint Harmondsworth, Middlesex, 1975), p. 74.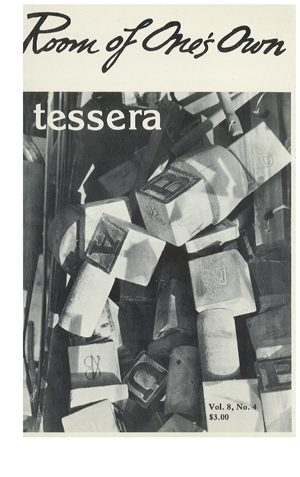 Downloads
How to Cite
Keitner, W. (1984). Canadian Women Poets and the Syndrome of the Female Man. Tessera, 1. https://doi.org/10.25071/1923-9408.23493