"Wholeness, Harmony, Radiance" and Women's Writing
References
Simone de Beauvoir, The Second Sex, trans. H.M. Parshley (N.Y., 1961), p. 425.
Emily Dickinson, The Complete Poems, ed. Thomas H. Johnson (Boston, 1960), p. 506, no. 1129.
Michel Foucault, "What Is An Author?", in Language, Counter-Memory, Practice, ed. Donald F. Bouchard, trans. D. F. Bouchard and Sherry Simon (Ithaca, 1977), pp. 114—38.
James Joyce, A Portrait of the Artist as a Young Man, ed. Chester G. Anderson and Richard Ellmann (London, 1968), p. 216.
Adrienne Rich, "When We Dead Awaken: Writing as ReVision," On Lies, Secrets, and Silence (N.Y., 1979), pp. 33—49.
Adrienne Rich, "Women and Honor: Some Notes on Lying," op. cit., pp. 186-94.
Virginia Woolf, Moments of Being, ed. Jeanne Schulkind (N.Y., 1976).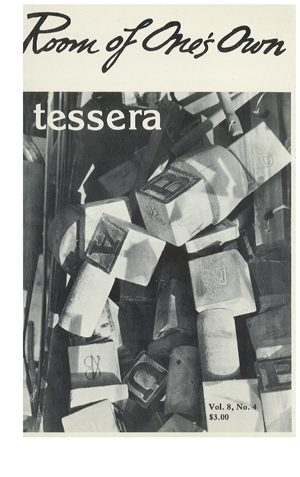 Downloads
How to Cite
Weir, L. (1984). "Wholeness, Harmony, Radiance" and Women's Writing. Tessera, 1. https://doi.org/10.25071/1923-9408.23487